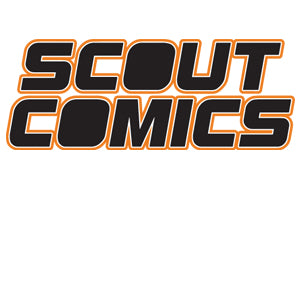 One week until Stake…How about some great art?
This post is from my newsletter and is a week behind.
One week to go before we go live on the Kickstarter!
It's nerve-wracking, I'm so excited, but first…
I spent the last weekend in Portland with Scout Comics at ComicsPro. The event was pretty cool and there were a lot of interesting announcements, including DC firing their co-publisher Dan DiDio.
With Scout, we were there to talk to retailers about what we have coming up, what their needs are, and give them some free swag. Up until the DiDio announcement, we were actually the belle of the ball thanks to this little beauty:


That's right, we have a Scout Comics vending machine! It's made of cardboard, but super lightweight and on wheels. Everyone seemed to love it and a lot of stores are going to be putting them in.
I'd say the trip was a success and hope to go back again. The red eye Sunday was painful, but worth it!
Last week I introduced you to Stake Kickstarter Women of Comics Cover Collection artists Zu Orzu, Tiffany Groves, and Stephanie Lavaud, this week I'm going to bring it home with the final three amazing artists!
First is Anna Zhuo:
Anna is such a fun artist and beats the streets on the con circuit like no other, so make sure you check your local convention, she may be there!
Next up is Serafleur (Abigail Diaz):
Serafleur is a digital master from the Philippines with over 450,000 Instagram followers!
And our final artist for this week is Sorah Suhng:
Sorah has been doing awesome covers for years and has a Kickstarter of her own launching today!
That's all of the amazing Cover Artists for the Stake Women of Comics Cover Collection Kickstarter. But let's see a little more art!
Here is Carla Cohen's offering to the campaign, Jessamy:
LACEY IS MISSING.
Her sister, Lori, has ignored all warnings and traveled to Dusk County to bring her home. Lori quickly learns that things aren't as they should be and is forced to team up with a few unlikely allies or risk becoming the next victim of Dusk County.
The Dusk County Chronicles: Nightfall is a three-issue mini-series that takes characters from every story within the first two issues of The Dusk County Chronicles and brings them together for a horrific tale of mystery, betrayal, and sacrifice in a world of monsters and nightmares.
My friend Joel Rodriguez has a new Kickstarter campaign that might interest you… oh and we might have a little crossover you might enjoy:
The incredible Stephanie Lavaud, who I introduced you to last week, did a connecting cover for Dusk County and Stake, featuring our characters squaring off against each other in battle. You can purchase both of these covers on either Joel's campaign or the upcoming Stake campaign next week!
And a quick reminder, click the image below and you can sign up to be notified when the Kickstarter has gone live!
Next week we go live and I can't wait, I hope you'll just us!
---