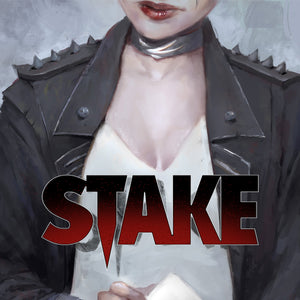 What is going on right now?
This was sent as a newsletter on 3/18/2020.
It's only been a week since I checked in, but it seems like the world is upside down.
COVID-19 has affected everyone's life in some way. We all see what's happening. It's scary. It's confusing (why are we buying all the toilet paper people!?!). It's concerning.
The minute the NBA suspended their season things got really real for me. I was selfishly hoping the NHL would wait until Friday last week so I could watch one last Flyers game in person before an indefinite hiatus. 
These leagues did the right thing. The social distancing is important. It should save lives. The things that are being cancelled - including comic conventions - are not as important as everyone's safety.
So from me and my family to you, stay safe, stay home if you can, and WASH YOUR HANDS!
If you need something to do while you're stuck at home you should check out the...
STAKE KICKSTARTER
We're now two weeks into the campaign and I couldn't be happier. 156 people have entrusted me to fulfill this campaign and I can't wait to do so. 
We hit our second stretch goal and added this sweet cover from Laura Rimaszombati!
Now we're only $903 from our next stretch goal:
Peach Momoko has be gracious enough to provide a cover on really short notice and we're so close to unlocking it! Here's her preliminary sketch:
It's going to look so good and so different from all the others.
The campaign ends on the 31st at 11:59 PM EST. Still a long way to go and few really great reveals. I'm really enjoying this campaign and so excited to have had not one, but two people pledge to have themselves drawn into the comic!
I'm really doubting my next appearance at Megacon in April will happen and not sure when I'll get to do another, but we will persevere.
Feel free to drop me a line if you have any questions about anything or just want to chat, I'm always here, more so than ever in these crazy times!
Back in a week! And please, again, stay safe!
AND WASH YOUR HANDS! :P
---
1 comment